Blake Moynes Pt. 2: "Conservation Influencer"
On two seasons of The Bachelorette, Blake Moynes was identified as a "Wildlife Manager." 
In our previous post, we broke the story on what that job title really meant and how Blake used it to build a following as a t-shirt salesman and a conservation influencer.
Take note of the charity mentioned.
Since then, Blake has quit his former gig to devote himself to posing near animals (and Katie) on Instagram full-time.
Blake claims affiliation with a couple of conservation organizations.
Last time, we explored his involvement with Care for Wild Rhino Sanctuary, which we believe is exaggerated.
Today, we want to talk about his "favourite charity" Soldiers for Wildlife, an organization with a much more controversial mission. 
Hold on to your horses. 
(Unless you are in Canada because, as we all know, there are no horses in Canada.)
What is Blake's affiliation with "Soldiers for Wildlife?"
When his former employer tweeted congratulations to Blake on his engagement, they mentioned they had made a donation to "Blake's favourite charity Soldiers for Wildlife." 
And indeed, Blake does link to Soldiers for Wildlife in his Instagram bio. This is possibly the "conservation charity" funded by a portion of his t-shirt sales, but we can't confirm that due to the utter lack of transparency on his website.
Soldiers for Wildlife actively solicits Instagram influencers to become "Brand Advocates" for them and provides these influencers with content to promote their organization.
They have a form for it on their website and everything. They got at least $50 from GiGi from "Shahs of Sunset."
We surmise that Blake is one such "Brand Advocate."
What is "Soldiers for Wildlife?"
Soldiers for Wildlife is registered as a 501(c)(3) nonprofit, unlike some other "cause-based" bachelor projects we've investigated.
They are not rated under any category by Charity Navigator because they haven't given them any data. That's not overly unusual for small charities, and Soldiers for Wildlife's filings to the IRS report that they've taken in less than $50,000 each year that they've operated. 
What does Soldiers for Wildlife Do?
Let's ask them.
Before getting further into what they do, it's helpful to know more about who they are. Soldiers for Wildlife was founded by a US Marine. Their conservancy manager and instructors in Africa are former US military or former officers of colonialist armies, including a former South African Special Forces Operator and a former Rhodesia SAS Captain.
Under Belgian rule during the 60s and 70s, Zimbabwe was called Rhodesia. The colonialist military forces in Rhodesia were famous for using brutal tactics to suppress native populations.
So much so that nostalgia for Rhodesia is, like, a whole gross thing with modern white supremacists.
The "training" Soldiers for Wildlife is talking about is military training.
They do not refer to or show pictures of military weapons on their website (which we think is deliberate). But, it is not unreasonable to assume that the resources and tools that Soliders for Wildlife mentions are military as well — especially considering this Facebook post we found from a company that says they provided weapons training and security consultation to the organization.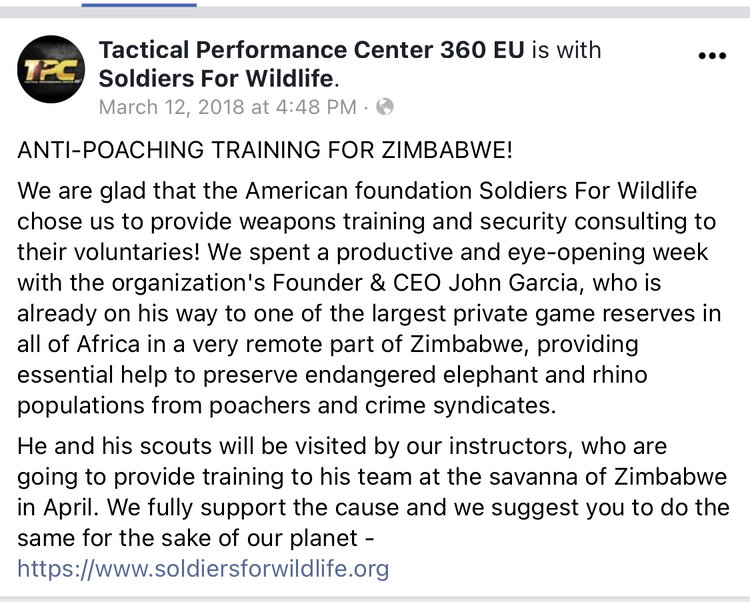 What's the big problem?
(Content warning: we're about to discuss some dark stuff.)
This is not Bindi Irwin encouraging you to be a "wildlife warrior." These are real soldiers. As in actual combat veterans. With guns.
Another paramilitary conservation organization, Veterans Empowered to Protect African Wildlife, was banned from Tanzania after one of their guys spoke about "killing bad guys" in a viral video.
The World Wildlife Foundation (WWF) — one of the most established and respected conservation organizations in the world — lost funding from the US government last year after the leaking of an internal report. It detailed indigenous people being tortured and killed by paramilitary ranger forces contracted by the WWF.
We don't know how thoroughly Blake has vetted Soldiers for Wildlife.
We do know that the WWF has more knowledge and experience in conservation in politics than Blake, and they still f*cked things up to a catastrophic degree by getting involved with similar groups.
Also, when poaching is driven by systemic poverty and high financial incentives from outside demand, catching (or killing) individual poachers will do nothing to protect wildlife.
Furthermore, using extreme tactics can turn an entire community against conservation efforts.
How to best protect African wildlife is a complex issue with a lot of disagreement (even by experts). However, historically, sending a bunch of white guys with weapons and no accountability to a region they aren't from and don't understand has not solved the world's problems.
And, as we've seen very recently under very similar circumstances, it can result in truly horrific consequences, including "torture, rape, and extrajudicial killings."
To be clear, we are not currently aware of anyone involved with Soldiers for Wildlife or any of the rangers they've trained being accused of any misconduct.
We are concerned about the colonialist militarization of conservation as a concept, and we are concerned about Soldiers for Wildlife using partnerships with Instagram influencers like Blake to white-wash this concept. (Get it? "White-wash"? Sorry. We don't have a lot of jokes for this article. This shit is bleak, man.)
We sincerely hope Blake will reconsider his "brand advocacy" for Soldiers for Wildlife. Here is a list of highly rated conservation nonprofits that he (and you!) could support instead.

October 2021 Update: We might make a full post in the future, but in the meantime, we wanted to let you know that Blake no longer lists Soldiers for Wildlife in his Instagram Bio.
Is it because of us? Unlikely, but we're going to take credit.
It appears that he is now affiliated with Big Life Africa. We'll vet it further if time allows (nobody saw these back-to-back-to-back seasons coming). For now, you can rest assured that Big Life Africa has a 4/4 rating on Charity Navigator.
XO Your Nosy Friends

P.S. This is Soldier's for Wildlife's actual logo (we added the arrow for WTF emphasis).
They commissioned this. They described what they wanted to a designer.
They probably gave notes to that designer on an earlier draft, and the whole time they were like, "Yup, this image represents how we are the people best qualified to address the problems of a modern and multi-cultural Africa."
P.P.S. Shoutout to Tumbleweed run on Twitter for sharing resources with us, and u/Astsai on Reddit for bringing additional attention to the issue!